After taking Tilly to dog training this morning and spending a couple of hours in the garden, my plan was to finish the diagrams for the
Apple Thief
crewel project, but I really, really, really felt like doing a bit of stitching, so picked up one of my 'Out & About' pieces instead.
I started this one on the drive to
Arkaroola
about a month ago (let's blame the blurry photo on the gravel road...)
I call them my 'Out & About' because they start life as my 'doodle' stitching when I am away. Usually, I pile a small bit of fabric, small hoop and whatever threads catches my eye in a bag.. usually about 5 min before I head out the door, so there is not a lot of thought going into it LOL.
I hadn't really done much on this little piece (approx 10cm (4") square) since we got back but last week I found this lovely thread. It is a stranded silk from
Colour Streams
, appropriately called 'Uluru' the indigenous and proper name for Ayers Rock.
One of the ideas behind these 'Out & About' pieces is only to use threads from my stash (believe me, there is plenty to choose from!) but I simply could not resist this one, the colouring is just perfect and inspired me to pick the little piece back up.
I added just a single little hill, not sure I will use any more for this one... time will tell. I am quite excited now to get back to work on it.
'Out & About, Koh Samui'
When the main colours are finished, I will be adding a drizzle of gold sparkle, similar to my last little piece (Started on my last trip to Thailand). It won't need much...
'Out & About, Koh Samui' Detail
... just enough to make the colours pop.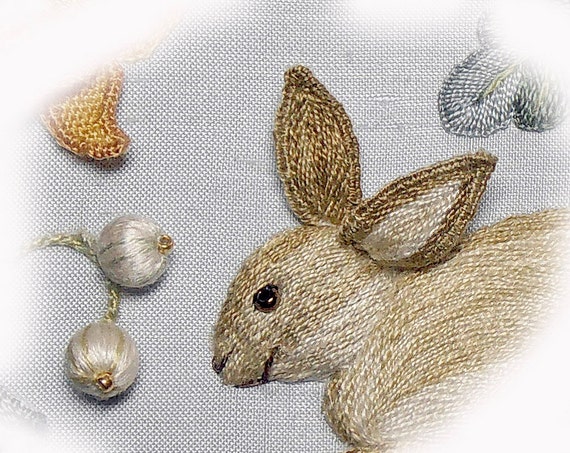 REMINDER
Don't forget the
Handmade with Love Super Bundle
goes ON SALE tomorrow for one week only!!!
Even if are not one bit interested in the
Handmade with Love Super Bundle
, you might still like to
ENTER the GIVE AWAY
to win one of 20 amazing prizes. It is as easy as:
1. Choose your category...
2. Enter your name and email address...
3. Sit back and wait to see if you win.
But don't leave it - Entries close tonight.
I look forward to (finally) be able to tell you about the MORE than 50 amazing patterns, tutorial and other goodies.
I hope you too are enjoying a lovely, stitchy Sunday afternoon.
Best Stitches,
Anna x